Gutters serve a very important purpose. They are stationed to channel water away from the foundation of your home. In order for gutters to do their job properly, they need to be installed correctly and kept in good condition. At Gold Star Contracting, we are committed to providing the best gutter installation in Shakopee, MN.
Common Gutter Problems
Most gutter companies begin with an inspection process. If there is a suspected repair needed, we will locate any water damage to your property so you can handle that in addition to the gutter issue. Below are the most seen reasons for a complete gutter replacement or gutter repair.
Clogging And Sagging
The most frequent problem we see with gutters is clogging. When rain gutters become clogged, they can't drain properly and can start to overflow during storms. If the water cannot pass through the gutters and downspouts properly, it will cause issues with your foundation.
To keep them free of debris, stick to a minimum, twice-a-year maintenance program. Gutter cleaning varies depending on the climate you live in. Usually, it's a good idea to clear them out in late fall after most of the leaves have fallen, and in spring (in March or April) to make sure they're clear for those April showers.
If you let your gutters clog up with debris such as leaves, twigs, and standing water, then overflowing water isn't the only problem you'll face. The weight from all of the debris causes gutters to sag. This is usually caused by loose hangers, the hardware that secures the gutters to the house. Loose hangers pull out when they can't hold the extra weight. You can often fix this by simply tightening the screws again, but it could also be caused by the hangers being spaced too far apart. In this case, you'll need to install new ones to ensure that they're close enough together.
Protect your home with gutter guards. We highly recommend this added protection as they are designed to prevent clogging and reduce the need for frequent cleanings.
Leaks And Holes
If you notice a stream of water pouring down from the middle of your gutters, it's likely they have sprung a leak. Leaks happen commonly and are usually a simple fix. We use a gutter sealant to caulk the seams. Larger holes need patching.
Improper Pitching
In order for water to flow properly, gutters need to be angled correctly. The slope should sit at the correct angle, which is at least a quarter inch for every 10 feet of gutter. Misaligned downpipes can affect the fascia board by soaking the wood. Rotting will happen if this is not corrected.
Gutter Installation Process
As the leader in gutter installation for Shakopee MN, our processes are quite simple. First, we calculate and purchase at least the total length of gutters needed, as well as the necessary downspouts and attachment brackets. Then, we inspect the fascia and soffit for any rot or decay before moving on to installation.
Next, we plan the scope of the gutters by measuring the layout line, locating the starting, ending, low and high points. Finally, we size, cut and install the gutters.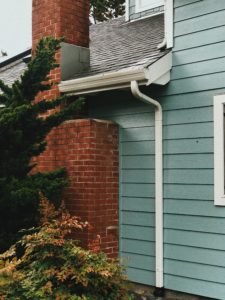 Gutter Repair In Shakopee MN
Thankfully, issues with your gutters can be actually pretty small.  and is something that can be repaired in a timely manner. For example, if the problem you notice is your gutters sagging, this is not the gutters themselves, but their posts that join them to the house. This is a quick and fairly inexpensive repair.
Other times, the gutters may be warping or bending slightly or they may be rusting in only one section. These sections can be replaced to repair the gutters at a much lower cost than a complete gutter replacement.
In fact, it's estimated that gutter repair costs about 60% of what a full gutter replacement would be. So if the issues are fairly minor, or if they are the type of problems that won't recur on a regular basis, gutter repair is often the best choice financially.
We take great pride in making sure all aspects of your gutters are in a solid state.
Gutter Materials And Brands
There are different types of gutter materials and brands in the market today. We find these six below as the most commonly used for a gutter system:
Seamless gutters
Stainless steel gutters
Copper gutters
Aluminum gutters
Zinc gutters
Wood gutters
Galvalume gutters
About Shakopee, MN
Shakopee, Minnesota holds the county seat of Scott County, Minnesota. Not too far from downtown Minneapolis, it's a good distance to live outside of the metropolitan area without sacrificing amenities. As of 2010, the census had the population of Shakopee at 37,076. Offering both the charming spirit of a small town and the conveniences of a vibrant cosmopolitan city, Shakopee is a booming river town.
The city is famous for the Canterbury Park racetrack, The Landing, and the Valley Fair amusement park. You would find an old fashioned bakery, summertime bi-weekly classic car shows, riverside concerts, numerous small town restaurants and boutiques, and a Turtle's 1890 Social Center in downtown Shakopee.
Think You Might Need A Gutter Repaired Or Replaced?
It is important that your gutters in Shakopee are in the best condition possible for the upcoming season. Contact us for gutter installation in Shakopee MN today!