Minnesota storm damage is nothing to be taken lightly. It's something that almost every homeowner will have to deal with at some point. The good news is that Gold Star Contracting is here to help with all your storm damage repair needs.
The first step is to pick up the phone and give us a call. With more than 15 years of service in the twin cities area, our team understands storm damage restoration.
Storm Damage Repair Near Me
Although the process of finding a reputable storm damage contractor can be challenging, you don't need to worry. You can rest assured knowing that help is on the way.
As top-ranked storm damage experts, nothing is more important than customer satisfaction. Without a doubt, our team stands by our Gold Star Reviews. We warmly welcome you to read what our past clients say about us.
Aside from outstanding customer service, you can expect the highest quality materials and masterful installation. After all, the safety of your home and family starts with the roof.
You can trust us to ensure that all roof repairs are completed quickly and for the best possible price.
Speak With A Storm Damage Expert
Experts Of Asphalt Roofing
Without a doubt, asphalt roofing is our specialty. If you have a residential home or multi-family unit needing a new asphalt roof, look no further.
Take note, we do not offer general repair services or minor damage repairs. Instead, our team prefers to put all our resources into storm damage roof replacements.
To discuss the best asphalt roofing options for your home, please fill out the contact form. After that, one of our representatives will reach out with more information.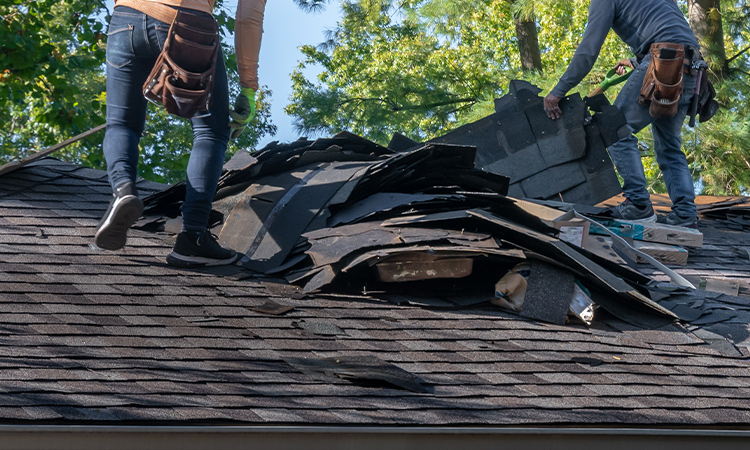 Our Storm Restoration Services
Minnesota storms can happen at any time of the year. And when they hit, they cause all types of storm damage.
The last thing you want to do is panic. If you've experienced water, hail, or winds damaging your roof, try to remain calm. Trust that our experts will get your home back into tip-top shape.
Wind Damage Services
Extreme weather conditions like thunderstorms, winter storms, and tornadoes can lead to wind speeds over 100 mph. These events are known to cause severe damage to homes.
At Gold Star Contracting, we've handled numerous wind damage repair jobs in Farmington, Minnesota. If your home has been affected, our team is here to support you.
Over the years we've helped hundreds of homeowners navigate the insurance claim process. Once you inform the insurance company of the situation, our storm damage specialists will handle everything.
With our team, storm damage repair is simple and stress-free.
Water Damage Services
Facing water damage in Minnesota? Whether it's burst pipes, flooding, clogged cutters, or storm-related leaks, we have you covered. Our water damage repair experts will tailor a budget-friendly plan to meet your needs.
Hail Damage Services
Minnesota residents are no strangers to hail storms. With thousands of hail storms annually homeowners across the state can feel the impact. If your property needs repair after a recent hail event, please schedule a free inspection.
Schedule A Hail Damage Inspection
The Storm Restoration Process
Inspection: Our skilled team initiates the roof restoration process. We start with a meticulous inspection of your property's roof. This step helps us carefully examine its condition after storm damage.
Damage Evaluation: Following the inspection, we evaluate the extent of the damage. This step helps us determine the necessary actions to restore your roof to its pre-storm condition.
Proposal: Once we've evaluated the damage, we provide you with a comprehensive proposal that outlines the required repairs and replacements. Our detailed proposal ensures you understand the restoration plan and its estimated costs.
Material Selection: With our guidance, you select the appropriate roofing materials for the restoration. We consider your preferences and budget to help you make informed decisions.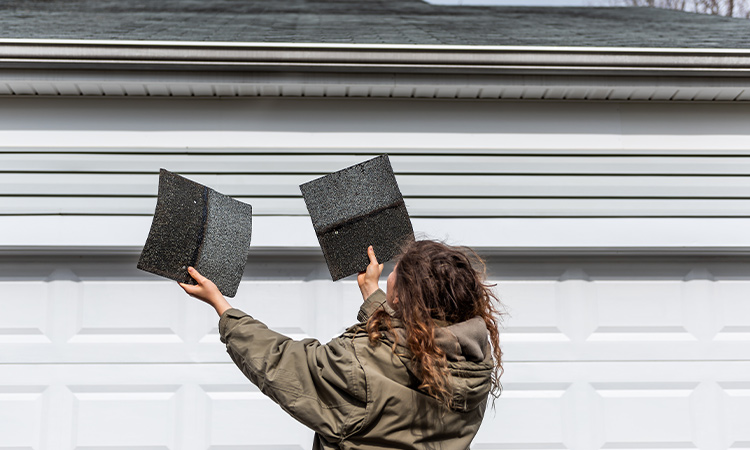 Preparation: Before commencing the restoration work, we take precautions to ensure safety on the job site. Our team secures the area to prevent accidents and damage during the restoration process.
Restoration Work: Our experienced professionals undertake the restoration work. From repairing damaged shingles to addressing leaks, we are focused on the highest quality.
Quality Check: After completing the restoration work, we thoroughly verify that the roof meets safety and quality standards. Our aim is to ensure your roof is resilient and ready to withstand future storms.
Final Review: We believe in open communication, and thus, we encourage you to review the restoration results. If you have any questions, we address them promptly to guarantee your satisfaction.
Completion: Once the roof is restored, your property has a reliable roof. We guarantee protection against future storms and adverse weather conditions.
Schedule Your Free In-Home Inspection Today!
Don't let storm roof damage ruin your day. Schedule your free inspection with Gold Star Contracting. Our experts will get you taken care of quickly and efficiently.
As a GAF-certified roofing contractor, we take pride in providing comprehensive warranties for all roofing systems.
If you have any inquiries or need assistance, please fill out the contact form. Our team is dedicated to supporting you throughout the entire process!