Has your home or business recently experienced hail or storm damage in Oakdale, Minnesota? If so, you are certainly not alone. The good news is that Gold Star contracting offers 24/7 storm damage repair services, and we are here to help!
With more than 15 years in the local roofing industry, we understand these are stressful situations. From roof replacement to roof repair and restoration, our storm damage repair contractors can take care of all your needs.
You are just a few clicks away from peace of mind. Let us take a moment to explain what to do if there's damage to your home and how to navigate the insurance claims process. With Gold Star Contracting on your side, insurance restoration is a breeze!
Storm Damage Restoration In Oakdale, MN
We know our way around the Twin Cities region exceptionally well. Over the years, we have built long-lasting relationships with local insurance firms. As a result, our team works hand-in-hand with the insurance adjuster to ensure the process goes smoothly. Doing this allows our clients to sit back and relax while we attend to the storm-damaged roof.
Although most insurance companies cover damages up to one year later, acting as quickly as possible is essential. By taking care of the problem now, you can avoid more significant problems down the road. Below we will take you through the primary steps so you can assess the situation promptly and accurately estimate the cost of repairs – headache free!
Our Storm Damage Services
In Minnesota, anything can happen when a storm rolls through, especially when your structure is already aging. The older the roofing products, the more susceptible they are to damage from hail, wind, water, and freezing temperatures.
Here are some of the specific services we offer. Keep in mind these are in addition to storm damage repair.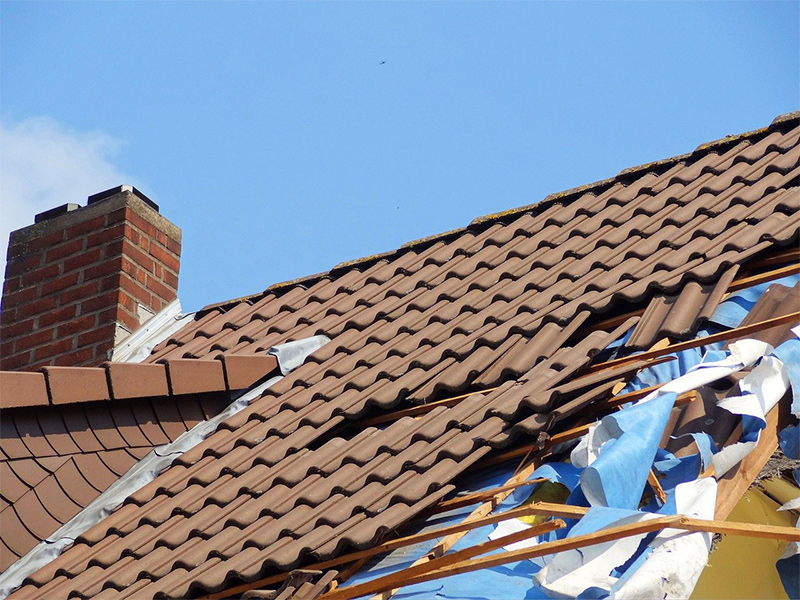 The next steps for storm damage repair
Inspect your home for damage.
Once the storm has cleared, the first step is to check your home or business for visible damage. Start in the attic and keep an eye out for leaks. We also recommend checking the interior walls and ceiling for water stains. Afterward, you can move to the exterior and inspect your roof for missing and damaged shingles.
Review your insurance policy.
It's also a good idea to review your insurance policy and contact your agent. Please remember to do this before you file a claim. In many cases, you will need to meet with your adjuster, contractor, and mortgage company, depending on the severity of the damage.
Contact a professional that offers emergency repair services.
We strongly recommend conducting thorough research before hiring any contractor. Take the time to read their recent reviews and always be aware of misleading contingency contracts. Don't be afraid to ask lots of questions upfront.
Begin the repair process.
Once you have contacted your insurance company, inspected the house, and hired a trustworthy contractor, you are ready to begin. The best plan of action depends on the source of the damage and its severity. Whether you need wind damage repair or hail storm renovations, Gold Star has your back.
How we stand out
The roofing technicians at Gold Star Contracting are highly trained and very dedicated to their craft. Everyone on our team adheres to our long-standing reputation as a customer-focused company. At the end of the day, it's crucial that you are happy with the final product.
For every job, we strive to deliver world-class quality and unmatched customer service throughout the project. Let us be your one-stop shop for any hail damage to the roof, gutters, and siding. We are here to serve the Oakdale community.
The City of Oakdale
The city of Oakdale, just east of the Twin Cities, is no stranger to high winds, severe hail, freezing, and massive amounts of snow. With a population of 27,378 as of the last census, Oakdale is the 32nd largest city in Minnesota.
Over the years, we have serviced many homes in this suburb and consider it part of our home territory. You can contact us for emergency roofing services at any time. Please note that hail damage is one of our specialties!
Your Local Expert For Storm Damage Repairs In Oakdale, MN
Part of our Gold Star Status is due to the fact that we always use the best quality materials from world-renowned brands like GAF. During our phone call, feel free to ask about all our certifications and products. We promise to treat every home like it is one of our own.
Our services are not limited to Oakdale by any means. We proudly offer roof restoration in the greater Minneapolis area and beyond the Twin Cities. It's our pleasure to provide free estimates and consultations. Please click the button below to get started!