Lakeville is one of those rare places where both nature and city flourish. As the city continues to grow bigger, so does the need for businesses. As a a commercial property owner, you want to feel confident that your building is in the best shape possible. A key part of the structure's integrity is the roofing system. Gold Star Contracting is who you can rely on for commercial roofing in Lakeville MN.
The process of roofing commercially vastly differs from residential roofing. Commercial roofing materials need to be more durable, lasting significantly longer. The installation from beginning to end runs longer too. While residential projects typically run 2-7 days, commercial projects can last up to a month. Anticipating these aspects of a commercial project will help you determine when the best time is do have work done on your roofing.
Our portfolio of commercial roofing in Lakeville MN includes churches, schools, apartments and shopping centers.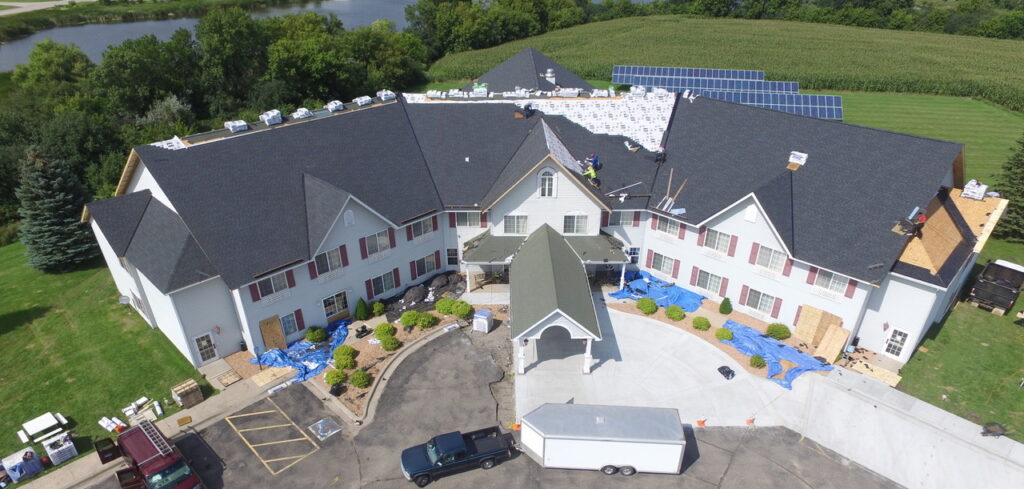 Reasons For Commercial Roof Replacement Or Repair
Blow-offs
If materials on the existing roof are broken or old, they are easily affected by strong winds. Wind does not stop moving when it comes across a barrier. Typically, the direction wind will continue to move is upward when met with walls. Space between the wind and the roof creates a strong pull, ripping materials off. This is also why proper installation is so important in the beginning of the roofing project.
Damaged Flashing And Pipe Boots
Pipe boots, also called pipe flashing, have an important role for your building. They are located on the roof to supply air to the drain pipes. This helps water to flow properly and avoid any plumbing issues. The boot part is the lead material surrounding the pipe to keep it from water damage. If the boot begins to crack or peel, this will cause water to leak into the roofing system. This can happen to other flashing elements as well, causing water to penetrate the roof.
Damaged Roofing Materials
A common thing we see in the industry is the breakdown of roofing materials. Nothing is made to last forever, even top of the line commercial products.  Roofing products are made to last 10+ years. However, the harsh seasons in Lakeville speed up the natural decline of the substance. Ice, hail and snow all lead to eventual storm damage and possible rot if not addressed right away.
Materials like metal and wood expand and shrink with the changing weather. If the materials expand it can cause joints that hold them in place to break. This then creates a hole and allows water to leak into the foundation of the roof.
Which commercial roofing material is best will depend on the slope of the building. For example, single ply roofing can be used for steep slopes and adds a beautiful exterior look to the building. However, single-ply materials are more susceptible to coming apart in a strong storm. If your roof is missing pieces for a period of time, it leaves the underlaying foundation vulnerable to water damage.
The Gold Star Way
Commercial roofing projects are a huge undertaking. That is why you need a company that has experienced, honest and reliable commercial roofing contractors. We at Gold Star Contracting work hard to make sure we stay up on the latest techniques and methods to make your roofing system last as long as possible.
The top questions we hear from property owners are:
Will the job be messy and disruptive?
Will I have to close my business during this time?
How long will it take?
We're glad you have these questions in mind. Our guarantee is to provide the least amount of disturbance possible. We'll work around your business' schedule to avoid any conflicts with your customers.
Once the job is complete, we give it one one final quality inspection of both work and and cleanup.
Our Gold Star way is delivering quality work for your roofing needs.
About Lakeville MN
Lakeville, Minnesota is perfectly placed suburb of Minneapolis and Saint Paul. Located 20 miles outsides of these two large cities, Lakeville is considered the best place to get out of the city and into nature.
The outdoor activities are endless! Arrow Forces is one of our favorite spots for some fun. At Arrow Forces you can play the game of archery tag which is similar in to dodgeball except with arrows. Another one of our favorite places to go is Battle Axed. Ax throwing has quickly become a popular sport in the last couple of years. Battle Axed is best place to practice and complete a tournament with your friends.
Think You Might Need A Roof Replacement Or Repair?
With the vast temperature fluctuations and seasons we encounter in Lakeville, MN it is important that your roof is in good condition.
As a GAF Certified Roofing Contractor, we are qualified to help you get perfect commercial roofing in Lakeville MN for your property. Ask about our other certifications!
Contact us for a free consultation!