Siding, no matter the material, provides a common theme outside your home or commercial property and plays a vital role in protecting your assets from damage. At Gold Star Contracting, we are committed to keeping your siding in tip-top shape. Our tradesmen are meticulous and experienced, bringing you high-quality siding installation and repair at prices you can afford.
Imagine siding as the first barrier to entering your property. Its job, first and foremost, is to protect the building from outside elements such as rain, hail, snow or ice. Secondly, siding creates a common and aesthetically pleasing exterior.
Siding in Minnesota
The most common issue caused by poor siding is water penetration. Building materials contract and expand with changing temperatures, and our Minnesota weather can be tough and unpredictable.
As a result, siding is often overlapped to cover the joints. If the joints are not fully sealed, water and/or snow can enter the building. If water does enter the property, be it from the roof or the windows, it could cause major damage like foundation and mold issues.
When it comes to aesthetics, siding is virtually maintenance-free and provides beauty that lasts for years. Updating your property's siding can dramatically improve its appearance and curb appeal.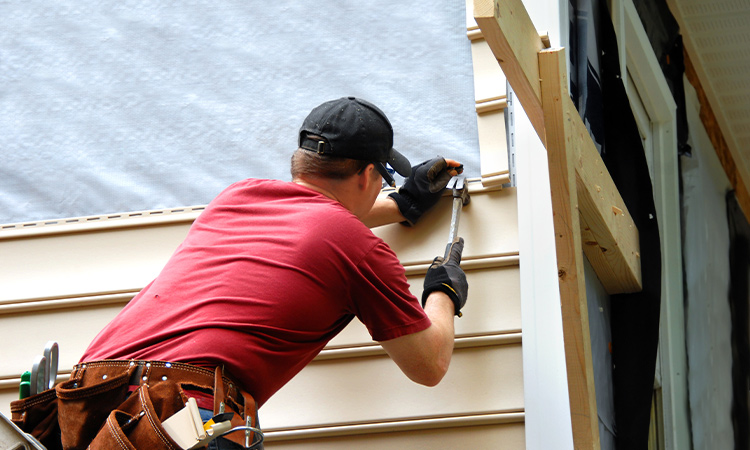 Choosing a Siding
Siding is one of the most affordable exterior materials available. Every home and commercial property is different, and there are certain types of siding that beat out the rest, depending on a variety of factors. At Gold Star Contracting, we put quality first. That means we work with the best siding materials on the market. Our siding vendors include LP Smartside and James Hardie products.
Vinyl Siding
Without a doubt, vinyl siding is one the most popular types. Vinyl is an ideal material because it's durable, low-maintenance, and adds charm and protection. Say goodbye to peeling paint or rot. You can choose from various colors and styles. Affordable and easy to clean, vinyl siding keeps your home looking great without constant upkeep.
Low maintenance
You have enough things to think about when it comes to maintaining your property. Siding should not be a matter of constant concern. The most common type of siding is vinyl, because it is available in every color, incredibly durable, and it is extremely easy to care for and maintain. On the other hand, the type of siding that requires the most maintenance is wooden siding. The wood can rot and damage quite easily.
Water protection
Vinyl siding is also the most popular siding option for wet environments. Other materials that work well include cement and brick, though vinyl is still the strongest option. Wood and stucco are gaining in popularity for those people seeking a unique look, but they do not hold up as well against the elements.
Going green
Environmentally friendly options are gaining momentum in all areas of homes and commercial properties, and siding is no exception. The most environmentally friendly siding option is fiber-cement. It's durable and saves you unnecessary repair costs.
At Gold Star Contracting, we do our best to offer a variety of colors and textures that will enhance the beauty of your property. Our experienced installers will make sure you have a great looking, durable siding that adds value to your residence or commercial property. If a massive storm damaged your siding, or you simply want to trade one color for another, look no further than Gold Star Contracting.
Get A Quote Today!
Contact us regarding any information, questions, quotes or comments concerning roofing construction or our business. If you need to speak with a roofing expert about siding installation and repair, we are happy to offer a free evaluation and estimate at no obligation.