With how preoccupied we are these days, it's easy for 10, 15 even 20 years to go by quickly. Within that amount of time, you may not have given even a thought to the integrity of your roof. The main reason is that roofing systems are built to last many years without a repair or replacement.
Thankfully that saves homeowners on costs as well. However, just like other parts of your home, the roof should be evaluated. When you do need a residential roof replacement in Apple Valley MN, Gold Star Contracting has you covered.
The reality is at some point during your home's lifetime, a roof replacement will become a necessity. Typically, materials for a roof should last up to 20 years. But as we see, unexpected incidents occur.
Those circumstances range from missing shingles to complete storm damage. We understand the devastating effects natural elements can have on a home. Apple Valley is no stranger to harsh weather.
We'll break down other warning signs you should be aware of that indicates it's time for a roof replacement.
Warning Signs For Residential Roof Replacement
One of the most common questions homeowners face is whether to repair or to replace. While repairing a roof can extend its life, this only goes so far before it falls into disrepair again. Eventually, you'll have to do a roof replacement. Gold Star Contracting offers free estimates to determine if the roof is repairable or if it's better to do a full replacement.
Age
Although roofing products on the market last up to 40 years, the aging process can be accelerated by a combination of factors. If your roof is more than 25 years old, it is highly recommended to get it assessed for structural integrity by a professional inspector to determine its health.
Neighbors Replacing Their Roofs
In most neighborhoods homes were built within the same year. If you find that neighbors are replacing their roof, it may be time to consider having yours done as well. As mentioned above, age is important to have in key when thinking of your roofing system's state. Homes in the surrounding area also experience similar environmental factors. Again, if you notice neighbors inspecting their roof, it may be time to have yours done as well.
Bald Or Spotty Shingles
With the aging of an asphalt roof is the washing off of the protective granules. This leaves your shingles looking bald or spotty. Even though this is normal in the aging process, it is also a good reason to have the roofing materials replaced.
Curling Or Cupping of Shingles
Factors such as a bad installation or installation over an existing roof can cause shingles to curl. Usually, curling shingles is an indication that your roof is aging. But if a significant portion of your roof is showing signs of visible curling around the edges, then it is vital to look into a roof replacement. If left unchecked, it causes leaks and further damage to your home.
Dark Stains
Dark stains can begin to appear on your roof due to airborne algae and bacteria. Although it doesn't affect the structural integrity of the roof, it makes it unsightly and visible proof of aging. Dark stains can be taken off with bleach and water but should be done by a professional. Dark stains that are too difficult to remove might mean it's time to change the roof.
Roofing Options For Residential Roof Replacement In Apple Valley MN
Gold Star Contracting offers a wide selection of roofing products and materials. Our roofing experts will walk you through the various options so you can make a solid choice for your house. Some of the materials we offer are:
Metal
Asphalt
Tiles
Slate
Flat
Wood / Shake
We are proud to not only carry these styles but a number of brands such as GAF. Our roofing contractors will show you what others in Apple Valley have used on their homes to give you a better idea for yours. Learn all the pros and cons for which roof style is perfect for your taste.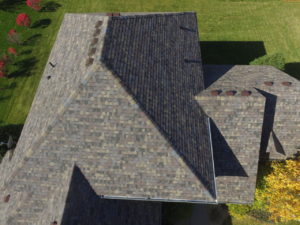 Why Choose Gold Star Contracting For Roofing Services?
Gold Star Contracting is the best roofing company to work within Apple Valley MN. We are not only GAF certified but are an Owens Corning Preferred Contractor. Both of these certifications mean that we have taken the time and resources to ensure we use current roofing techniques. These companies also allow us to use their high-quality materials for your roof to last for years.
With our years of experience in the industry, we know how stressful a complete roof replacement is. Our goal is to make the process easy, affordable, and completed as quickly as possible.
Rest assured, we have an amazing customer service team who will give you frequent updates so you know what happens with the project. Our team also coordinates with your insurance company so you are not paying more than necessary. Once your roof is installed, we will stay in touch to make sure you are not seeing any leaks or damages. We hope to hear from you soon about your residential roof replacement in Apple Valley MN!
About Apple Valley, Minnesota
Apple Valley in the state of Minnesota is home to picturesque hills and beautiful lakefronts. Located just outside the Twin Cities, Apple Valley reflects the ideas of suburbia, yet offers the spirit of metropolitan life. Residents of Apple Valley say that though the city has grown, it still remains a friendly place to live.
Apple Valley's scenic landscape is the first impression of a city booming with life. Attractions include world-class museums, art galleries, theaters, sandy beaches to trudge on, large and beautiful parks, and priceless public art.
There's enough to keep visitors busy with a wealth of iconic sights and neighborhoods to explore. Apple Valley has enough to fill the minutes and hours of a day without end.
Think You Might Need A Roof Replacement Or Repair?
With the vast temperature fluctuations and harsh weather we encounter in Apple Valley, MN it is important that your roof is in good condition.
As a GAF Certified Roofing Contractor, we are qualified to help you get the perfect roof for your property. Ask about our other certifications!
Contact us for a free quote with a consultation!