Most homes are purchased with the comfort of knowing it is sound and secure for years to come. After so many years though, external aspects of your home will begin to need more attention. One of those larger aspects is the roofing. Roof replacement may become a necessary project when your home begins to reach the 20 year mark. Gold Star Contracting is here to take on your project of roof replacement in Lakeville, MN.
Most people would sink into their palms at the word 'replacement'. Why is that? What may come to mind is the expense incurred, length of the project and how it  impacts one's day-to-day life.
Rest assured, working with Gold Star Contracting means your roof replacement does not have to be a grim process. We are here to make the transition from your old roof to your new roof as affordable and fast as possible.
Roof replacement is a solid investment you can make to your home. After all, the roof is one of the primary defense against outside elements.
Not only is it important to consider roofing costs, color and style but long-lasting for your area. For example, shingles and wood shakes are great on costs. Yet, slate tiles are the most durable for cold weather. Gold Star Contracting will help you weight the pros and cons of each material for your roof replacement. It is part of our customer service experience to walk you through all of your options and make recommendations that work best for you.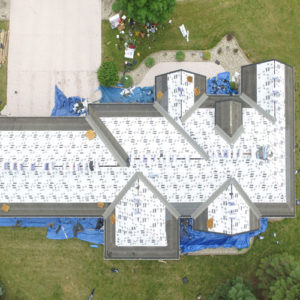 There are multiple reasons why you might consider replacing your roof if it is beyond repair.
Causes For Roof Replacement In Lakeville MN:
Deteriorating Roofing Materials
An occurring reason for roof replacement is the breakdown of the roofing material. This is caused by daily wear and tear that may be hastened by bad weather conditions. Rain, ice and snow can all lead to damage and rotting. Interestingly, the sun can also lead to the deterioration of roofing materials. Missing pieces of the roof can also affect its general state. For example, shingles are laid in a way that is compact and sealed with one another. If one shingle breaks off, this will make the surrounding shingles vulnerable to the weather. As soon as those other shingles are exposed, it will continue a pattern of breaking off from the underlayment.
Major Remodel
If you're planning on changing the square footage of your home, you'll want to consider replacing the roof in its entirety. Remodeling projects that involves changing the roof line, adding skylights or architectural accents is the perfect time to think about going with a new roof color or style. Designing and implementing a new roof will increase the value and appearance of your home.
Damage
The heavy rain and sleet of Minnesota can wreak havoc on a roof.  As noted earlier, missing roof materials can snowball into a worse problems for your roof.  If undetected, sporadic damages grow bigger, affecting other parts of the roofing system. Gutters are easily clogged by leaves and other debris. When combined with water, a heavy sludge is created. This weighs down the gutters and amplifies the problem. If your gutters or flashing need repairs, it's possible your fascia will as well.
Most damage is done directly to the roof but sometimes it can happen indirectly as well. In the event of an unexpected strong storm, trees planted in close proximity to your home may snap and crash down on your roof. The team at Gold Star Contracting is here to get started on any size of damage.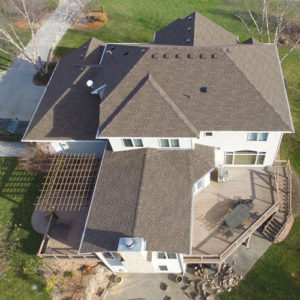 About Lakeville, MN
Lakeville, Minnesota is located 20 miles south of Saint Paul and Minneapolis and ranked #1 as the safest city in the state. This growing metropolis currently holds over 64,000 residents.
Learn To Skate USA is a trademark activity in Lakeville, MN. The program teaches skating to young ones in an upbeat, fun way. There are multiple steps to the professional program to ensure all students participate in a branch of skating they enjoy. The steps range from beginning figure skating to expert-level hockey skating.
The community has an endless supply of recreational and leisure activities with over 100 miles of hiking trails and lakes. Every summer, residents and visitors attend the festival called Panorama of Progress, or Pan-O-Prog. It's been a custom since 1967 to celebrate the success of the development of Lakeville's Airlake Industrial Park.
If you're not one for games or loud music, the Lakeville Arts Festival may be more your style. Held every third week of September, over 100 artists showcase their best work.
Roof Replacement In Lakeville, MN
With the vast temperature fluctuations and extreme weather we encounter in Lakeville, MN it is imperative that your roof is in top condition.
As a GAF Certified Roofing Contractor, we are qualified to help you get the perfect roof for your home. Ask about our other certifications!
Contact us for your new roof replacement!