Your roof is one of the most important parts of your home. It's the barrier between you and the elements, and without regular maintenance, you could wind up with more significant—and more costly—home repairs. A good roof replacement in Farmington, MN doesn't have to be scary.
In fact, removing and replacing your roof when the time comes is a sign of good homeownership. Roofs with asphalt shingles are expected to last no more than 25 years, and that's under ideal conditions. In Farmington, of course, we deal with rain, wind, and snow, all of which can put stress on your roof system.
Finding the right company to do your residential roof replacement can be intimidating. Instead of googling "roofing in Farmington," contact us at Gold Star Contracting. We'll go out of our way to make sure your experience is pleasant and positive. You can trust our team of licensed and certified roofing contractors to get the job done on time and on budget.
How Do I Know If I Need A Roof Replacement?
There are several signs you can look for that will let you know if you're in need of roof repair or replacement. Let's walk through how you can go about examining your roof:
Check The Condition Of Your Shingles
If you look up at your roof, do you notice any visible damage? You may see some spots where it looks like shingles may be torn or damaged—or they may be missing entirely. Sometimes you'll even find shingles scattered around your house, usually after high wind or a storm.
This is the most obvious way to tell if your roof is damaged. More than likely, water has already made its way into your roof, even if you haven't noticed it yet. We can help you determine whether replacing the shingles will be enough, or if you need more extensive roof repair.
Check The Weather
After every severe weather event, you should take a look at your roof, looking for dark spots, shingle damage, or other signs that water has penetrated your roof. Even relatively moderate weather can pose a risk to your roof, depending on the roof's condition. Snow and hail can be especially damaging.
Check Your Gutters
Nobody likes cleaning out gutters, but it's an important part of roof maintenance. If your gutters become clogged, water running off your roof can't follow its intended path. Instead, it backs up and both seeps under the edges of your shingles and pours over the edge of your gutter, potentially damaging your foundation.
Know Your House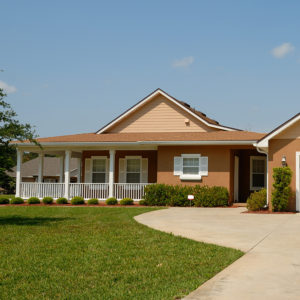 You may not be the first person to live in your house, but you should know when it was built and when the last roof replacement was. But other factors can age a roof prematurely. Poor ventilation or insulation can shorten your roof's lifespan. So can severe weather, extreme changes in temperature, and steady, direct sunlight.
The Gold Star Quality Guarantee
Here at Gold Star, we know your home is an important investment. We want to do everything we can to help preserve the value of your home, and that's by providing you with the highest quality roofing services possible. Gold Star is a GAF Certified Roofing Contractor, and we are dedicated to providing you with the best roof possible.
Whether it's repairing a few blown shingles or tackling an entire residential roof replacement, we promise we'll do the job the right way. We'll work with you to determine your needs and how we can make that work with your budget. Our team of roofing contractors will get the job done quickly and efficiently and to the highest possible standard.
Roofing In Farmington
If you think you might need a roof repair or roof replacement, contact us today to set up your FREE estimate. We'll talk you through all the different options, and make a plan for how we'll get the work done in a way that suits your budget and your timeline. Our aim is to make the process of roof repair and replacement as easy and pain free as possible, and to leave you confident that your roof will keep you warm and dry.
About Farmington
Situated about 25 miles south of Minneapolis-St. Paul, Farmington is home to a population of about 23,000. There are many nearby options for entertainment, including biking, hiking, golfing, museums, and other cultural events. And don't forget to come for Dew Days, Farmington's annual summer festival, which has been held since 1979.
Farmington is also only 40 minutes away from the Twin Cities, which means you can enjoy shopping, dining and Minneapolis-St. Paul in just minutes.
Minneapolis-St. Paul is home to a number of professional sports teams, as well as cultural sites like the Guthrie Theatre. And you can visit the Mall of America, one of the largest shopping malls in the world.