Victoria, Minnesota homes are no stranger to extreme weather. That is why it is so important for homeowners to stay on top of home maintenance and home improvements like residential roof replacements. Keeping your roof in tip-top shape may be the difference between April showers and May flowers.
When Is It Time To Get Your Residential Roof Replaced In Minnesota?
With asphalt shingle roofs lasting for an average of 20 years, houses built in the early 2000s may be ready for a new roof! If you aren't sure how old your roof is, think back to how old your kids were when you built your house or had the roof replaced. If they are now graduating high school, it may also be time to consider a new roof.
While the age of the roof is a great indicator, there are other signs as well. One of the most common signs is significant granule loss. Check your gutters after a good storm. If there is significant build-up this could be an indicator you need work done.
Keep in mind that April showers may bring unexpected wind or hail! Storm damage is always something to look out for! Any time there are significant storms, it is a good idea to complete a visual inspection of your roof.
Look for broken, missing, or damaged shingles, holes from debris, or signs of significant impact. Don't forget to check inside your home, too! Use a flashlight to visually inspect your attic for signs of moisture.
What Happens If I See Signs To Replace My Roof?  
First things first, call an expert to come to do a thorough roof inspection. If they see signs of any kind of damage, they will photograph and document it for you.
Here at Gold Star Contracting, we help guide you through this entire process. Once the roofing contractor has completed their inspection, another contractor will review the inspection with you so you understand what needs to be done. If your house needs a full replacement, your roofing expert will walk you through that process as well.
One of the most common concerns we see with homeowners is pricing. You may be wondering much will replacing your roof cost.
Here at Gold Star Contracting, we recognize this can be an issue for many homeowners. We strive to work with your insurance company to get either part or all of your roof replacement covered.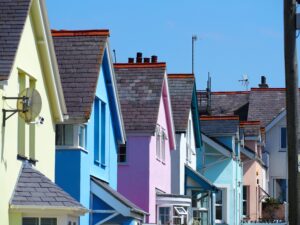 What To Expect During Your Roof Replacement
The great news is a good roofing company will do their best to find everything during the inspection so there will be no surprises.
Companies like ours will work with you to understand the issue and how it can be resolved quickly and efficiently.
Leading up to the replacement, you should already have an estimate. This is your guide to what will be done and your cost. Don't be afraid to ask questions if you are not sure about something on the estimate.
On the day of, our crew will arrive at your home and get set up. We'll bring all the roofing materials and roofing products needed. We'll then tarp off where we can and do our best to protect all landscaping. You will see our team jump right in and get your roof replacement underway. While we can complete jobs in 1-2 days, some larger or more complex roofs may take longer.
Once we have completed your residential roof replacement, our crew will be meticulous about cleaning up your property and leaving it just as we found it. At that time, our crew leader will inspect to ensure we completed the job to our standards and yours.
Why Choose Gold Star Contracting For Your Residential Roof Replacement In Minnesota?
As Minnesota locals, we know the area best and take pride in protecting our communities. Although our team is based in Shakopee, we travel up to 100 miles away to assist Minnesota's farther neighborhoods and provide top-of-the-line services.
Don't just take our word for it, as our certifications and experience speak for themselves. With an A+ rating from the Better Business Bureau and and recognized as an Owens Corning Preferred Contractor, Gold Star Contracting is well known for our reliability, hard work, and expertise. Don't just take our word for it! Check out our previous work here!
About Victoria
Victoria has an enviable landscape with 12 lakes, 22 parks, and the 1,200 acres! Many lakes have public boat launches and recreational space along the shore. The biggest is Zumbra and Virginia which are large enough for pontoons and waterskiing. Smaller lakes such as Schultz, Wasserman, and Auburn, also have waterfront real estate.
The Minnetonka Light Rail Trail runs through Victoria and gets a lot of use from bicyclists, runners, and walkers, often in groups who hit the trail each week then head to Victoria's restaurants, coffee shops or grab a beer.
Don't wait! Contact us today for your free estimate!