Roof Replacement on your home may be necessary if your roof is reaching 15 years old or more.
The roof of your home protects you from the weather elements each and every day, yet it is often a part of the house that receives very little attention, until problems arise.
While the roof defends you and your family from the snow, rain, hail, and wind, it endures direct exposure from these conditions; and as such, incurs damage, wear and tear over time.
Roofing materials are constructed to last between 15 and 30 years, so when problems occur, it is typically due to lack of maintenance. Routine care will prolong the lifespan of your roof and when minor repairs are made in a timely manner, it can prevent major damage later on.
Even a seemingly small area of roof damage can result in leaks and water damage to your attic, walls, or ceiling. Shingles can become damaged from high winds, or hail and the rain and snow can result in moisture buildup compromising the integrity of your roof, if not corrected.
Checking If You Qualify for Roof Replacement
So how do you determine if it's time for a new roof?
Roof replacement can equate to a substantial investment, but one that is well worth it in the long run. It not only makes a positive impact on the look of your home but it also safeguards the overall structure.
The need for a roof replacement isn't always obvious, but waiting too long can result in additional costs and repairs.
The most common reasons to have a new roof installed include the following:
Storm Damage
The high winds, heavy rain and down pouring of hail can wreak havoc on a roof. Shingles become broken or blow off completely, exposing your roof and causing damage that not always easily detected or repaired. In the event of storm damage, it is usually worthwhile to have the roof replaced entirely rather than attempting spot repairs.
Major Remodel
If you're planning to expand the square footage of your home or add skylights or architectural accents, it is the perfect time for a new roof. Remodeling projects that require changes to your roof line provide an ideal opportunity to replace the entire roof. Rather than trying to coordinate multiple roofing finishes and colors, a total replacement will increase the value and appearance of your home.
Obvious Wear and Tear
Asphalt shingles are made to last at least fifteen years, but seasonal events such as ice damming or mold and moss growth can impact its durability. Obvious signs of wear and tear usually include ripped or missing shingles, rotting wood along the roof framing, or signs of water damage on the interior of your home are indications that it's time for the roof to be replaced. Postponing replacement will result in further damage to your homes exterior and potentially jeopardize the structural integrity or belongings inside.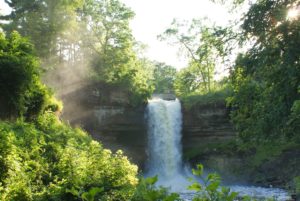 About Eden Prairie MN
Eden Prairie is situated far enough to be a quaint, small town but close enough to Minneapolis that you do not lose the advantages of a big city. Known for its natural stretched landscapes, Eden Prairie has dedicated 10,000 acres of land for beautiful parks and open spaces.
The city provides a plethora of amenities for all ages to enjoy.
A telescope made by Meade (LX200) can be found at Staring Lake Observatory in the Outdoor Center . Every month, new stargazing opportunities are posted that include peering into portions of the Milky Way, watching the light trails left by a meteor and even catching glimpses of a dying star.
There is no shortage of outdoor activities that can be enjoyed. With over 100 miles of bike trails and 13 miles of nature trails, Eden Prairie is a hotspot for cyclers and hikers.  Families can have a fun-filled day at Miller Park or Round Lake Park. Open between May-September, the splash pads are turned on. It's a recommended way to beat the Minnesota heat!
Dogs will also appreciate what the town has to offer. There are six, off-leash parks available for your animal to run around freely and enjoy the outdoors.
Think you might need a roof replacement?
With the vast temperature fluctuations and harsh weather we encounter in Eden Prairie, MN it is imperative that your roof is in good condition.
As a GAF Certified Roofing Contractor, we are qualified to help you get the perfect roof for your home. Ask about our other certifications!
Contact us now to get started on your new roof replacement!