Looking for reputable roofing contractors in Montevideo, Minnesota? Gold Star Contracting is your go-to professional roofing company, specializing in residential roof replacement services. With over 15 years of experience, we have built a solid reputation for delivering high quality, cost-effective solutions to homeowners like you.
Affordable Roof Replacement Services
When it comes to replacing your roof, we understand that you want the best. That's why we offer top-of-the-line roofing materials, like name-brand asphalt shingles. Our team of professional roofers will guide you through the process. They will explain the benefits of different types of roofs and help you choose the best option for your home.
Fast & Effective Roof Repair Services
Has your roof suffered water damage or other issues? Our team of expert roofers is here to provide fast and effective roof repair services. We know that time is of the essence when it comes to addressing roofing problems. That's why our roofing installation specialists prioritize prompt response and efficient solutions.
Whether it's repairing an asphalt shingle roof or handling more complex repairs, we promise to get the job done right. Our goal is to restore the integrity of your roof and protect your home from further damage.
Emergency Storm Damage Repair Services
Mother Nature can be unpredictable, and storm damage can be devastating. If your roof has been impacted by severe weather conditions, don't panic. Gold Star Contracting offers emergency storm damage repair to help you get your home back to its pre-storm condition.
Our team understands the complexities of dealing with insurance companies and will work closely with you to streamline the process. We will assess the damage, and provide a detailed estimate for the insurance company. Then, we'll handle all the necessary repairs efficiently and effectively. Your satisfaction and peace of mind are our top priorities.
The Residential Roof Replacement Process
When you choose Gold Star Contracting for your residential roof replacement in Montevideo, Minnesota, you can expect a streamlined and hassle-free process. Our team of experts will guide you through each step, ensuring a smooth experience. Here's how the roof replacement process works:
Free In-Home Consultation: We begin with a thorough assessment of your roof's condition during a free in-home consultation. Our roofing professionals will evaluate your current roof, discuss your specific needs and preferences, and provide expert recommendations.
Material Selection: We offer a wide range of high-quality roofing materials to choose from, including options from leading manufacturers such as Owens Corning and GAF. Our knowledgeable team will help you select the ideal materials that match your style, budget, and long-term goals.
Detailed Quote: Based on your material selection and the scope of the project, we will provide you with a detailed quote that includes the roof replacement cost. This way, we can ensure transparency and no hidden surprises.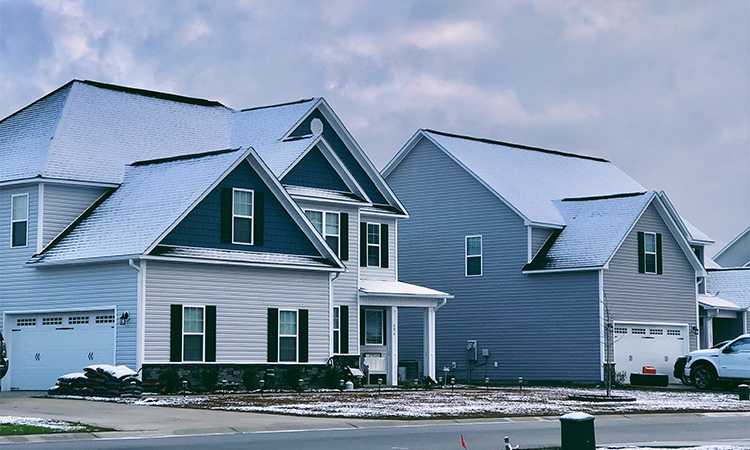 Scheduling: Once you've approved the quote, we will work closely with you to schedule the roof replacement at a time that is convenient for you. We understand the importance of minimizing disruptions to your daily routine.
Expert Installation: On the scheduled day, our skilled roofers will arrive promptly and begin the installation process. They will remove your old roof with precision and care. Next, they will install the new roof using industry best practices and superior craftsmanship.
Thorough Clean-Up: We take pride in leaving your property in pristine condition. Our team will meticulously clean up any debris associated with the roof replacement, so your home's exterior is spotless.
Final Inspection: Before considering the job complete, we will conduct a final inspection to ensure the new roof meets our high standards of quality. Lastly, we will address any concerns or touch-ups, if necessary, to ensure your utmost satisfaction.
About Montevideo, Minnesota
Nestled in the picturesque landscapes of Chippewa County, Montevideo, Minnesota, offers a welcoming community for residents. With its rich history and modern amenities, Montevideo provides an excellent quality of life.
In a place where weather conditions can be unpredictable. So, it's crucial to have a reliable roofing company on your side. Gold Star Contracting has been serving the Montevideo community for years. It's our mission to provide top-notch roofing services that protect homes and families from the elements.
Secure Your Home Today with Gold Star Contracting!
Replace your old or damaged roof today with Gold Star Contracting! Don't let residential roofing issues go unattended. Contact our professional roofers to schedule your free in-home consultation.
Experience the expertise and high-quality service that comes with decades in the industry. Trust us to handle your roof replacement or repair needs efficiently and cost-effectively. Don't wait until it's too late—give us a call now!