With storm season well on its way, it is important to understand how to detect and repair storm damage on your roof.
We put a lot of trust in our roof to protect our home from storms. Unfortunately, hail storms, tornados, high wind, debris, and heavy rains can jeopardize our roofing system. Mother nature is more powerful than we give her credit for and when she decides we have no choice but to hope for the best.
After the storm comes through the first step is to inspect your roof for signs of damage. If you find roof damage it is important to reach out to a qualified roofing company to assess the damage and help you through the roof repair or roof replacement process.
Let's explore what to look for when mother nature throws a temper-tantrum near your home.
What Does Storm Damage Look Like?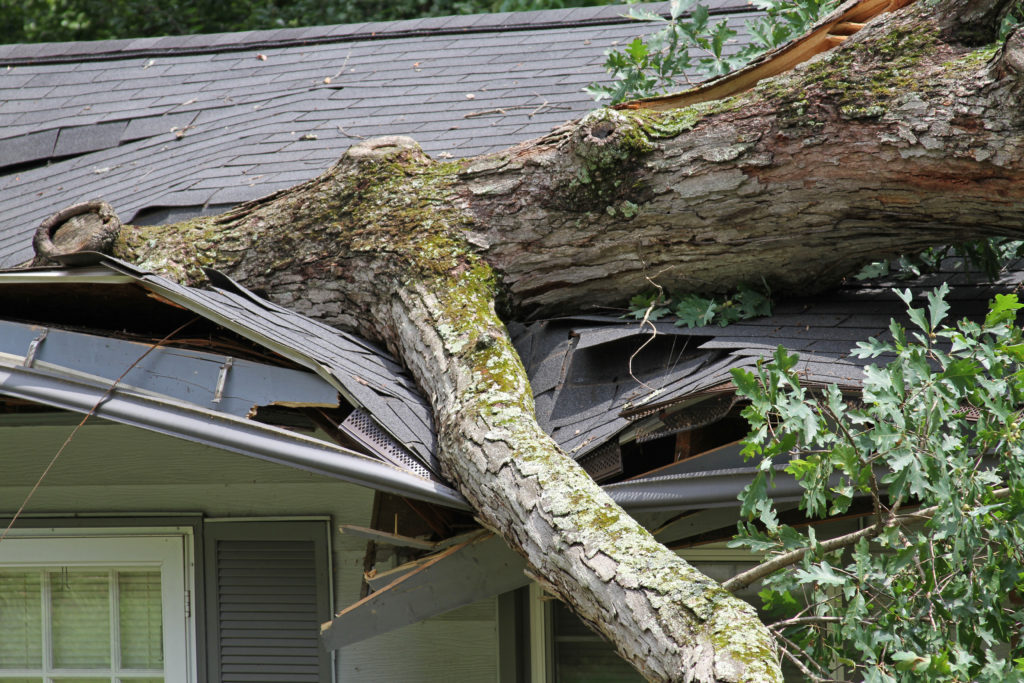 Roof damage from a storm can show itself in obvious means like a tree on your roof or large areas of missing or damaged shingles. Other times storm damage can go unnoticed for weeks or months in the form of a small leak from damaged flashing. Either way, if you don't catch it in time the replacement cost and repair can be significant.
Hail Damage
Hail storms can cause significant damage to your roof. With hailstones as small as a pea to as large as baseballs, there is a large range of severity that you could be looking at. Depending on whether you have metal roofing of asphalt roofing the damage can be very different.
Here are a few of the common things to look for with hail damage:
Random damage with no pattern typically covering large areas of your roof.
Holes or black spots in asphalt roof shingles that are soft to touch.
Dents on metal roof panels from hailstone impact.
Split wood, wood rot, or stone and asphalt shingles from impacts.
Wind Damage
Tornados can do large amounts of hail or wind damage to a roof very quickly. The challenging part of wind damage is it can affect very small areas that are almost unnoticeable to very large areas. Depending on the storm there may also be challenges with rain or hail as well.
What to look for with wind damage:
Missing shingles after a storm. Look both on your roof and on the ground around your home.
Curling shingles are often seen around corners on the roof, near the chimney and the ridge. These are much harder to spot than missing shingles
Lifting shingles are often hard to spot unless you are out during the storm. Look for shingles that are lifting as the wind blows.
Fallen power lines
Damage from Debris
Having a tree or branch fall on your roof can cause more damage to your home than is often visible from the outside inspection. When something hits your roof you need to look for obvious signs like holes or damaged shingles. You also need to check your attic and look for more serious signs like cracked or broken rafters or sagging portions of your roof.
How to spot Damage from Debris:
Look for damaged shingles and holes as you remove debris
Inspect your roof from the attic to look for signs of broken rafters
Look for portions of your roof that are sagging
You Found Storm Damage: What Now?
Once the storm has passed, take time to inspect the exterior. Once you have assessed your roof for structural damage, the next step is finding a qualified roofing contractor to provide an estimate.
Storm damage could result in a simple roof repair to a small section of your roof, or a full roof replacement. The costs to replace is much higher than a repair but may be necessary due to several factors listed below.
Age of roof
Availability of roofing materials
Size and severity of damage
Insurance company requirements
As you come up with unexpected repairs like this from storm damage, it is important to remember that a qualified roofing contractor can often help you with financing options and navigating a claim with your insurance company.
Working With Your Insurance Company
Understanding what is covered or not covered in your homeowners' insurance can be confusing, to say the least.
There are many factors involved in determining what roofing costs will be covered by your insurance company. Hiring a roofing company that is familiar with working with insurance can make your roof damage repair or replacement go smoothly. When working with your insurance company keep these tips in mind
Know what is covered and what is not covered
Save all receipts during the process to get properly reimbursed
Ask your insurance company about coverage questions before approving repairs.
Remember many policies also cover reimbursement for expenses related to being displaced from your home
Beware of Storm Chasers
It is no surprise that there are dishonest contractors out there that look for an opportunity to take advantage of consumers after natural disasters.
These fraudsters, use a disaster to scam consumers needing a roofing repair or replacement. They usee tactics such as making false promises, or create damage during an inspection. They also usually require payment in full before starting work.
Do your diligence when choosing a roofing contractor. Verify they are licensed and insured. Also, check to make sure they are qualified to complete the type of roofing project you need to be completed.
If you question a contractor's qualifications, be smart and schedule them to come back. Do not let them on your roof to complete an inspection.
Did a Storm Leave Your Home With roof damage? Give us a call.
Are you still having trouble trying to detect and repair storm damage? Give us a call to set up a free thorough inspection of your roof. Our team is here to help you through your roof replacement and roof repair from storm damage.