Here at Gold Star Contracting, we've learned over the years that storm damage repair in New Prague, MN is quite common.
It's no secret that the weather in New Prague can be unpredictable. With thunderstorms in the warmer months and heavy snow and hail in the colder months, we're no strangers to a bit of severe weather.
Luckily, we don't have to be bothered by the severe weather in our homes. Your roof is there to protect you, but it comes at a cost.
Over time, the elements gradually chip away at different elements in your roof. Whether that be your shingles, fascia, gutters, or even unexpected elements like your foundation.
At Gold Star Contracting, our team of expert, certified roofing contractors are ready to help. We'll help you recover from storm damage in New Prague, whether that be a roof repair or total roof replacement.
Even if you're just seeing one or two missing shingles, it's still important to remedy this before any damage inside your home occurs. Caught early enough, storm damage on your roofing could be just a few simple, inexpensive repairs!
However, if you ignore the damage you could need a total roof replacement. It's certainly better to prevent further damage than it is to wait until it's a bigger problem.
But! There's no need to panic.
We offer free estimates to help you determine the extent of any damage caused by storms to your roofing. So, you'll know exactly what your roof needs to get back to peak performance!
No more, and no less; we'll never tell you that you need more work than you actually do. At Gold Star Contracting, we understand that you're looking for outstanding value and superior workmanship. This goal is at the core of our mission.
What Are the Signs of Storm Damage?
There are a few red flags for you as a homeowner that indicate you need to begin thinking about giving us a call to take a look at your roof.
To do this, we recommend safely checking your roofing from the ground level the best you can. Take a look after any kind of storm rolls through your neighborhood.
This is particularly important if you see other damage to your property. Like dents in your car from hail or fallen trees, for example.
We also offer a roofing estimate free of charge if you'd rather we come over and take a look! We have all the special equipment to check the higher parts of your roof that you're not able to safely inspect from the ground.
Shingles
Hail storms and any storm with heavy winds can cause serious damage to your shingles. Shingles are meant to be flat and sealed together as a solid deck.
Storms can easily compromise the integrity of your shingles and their ability to protect your home from the elements.
High winds can also cause shingles to separate from the deck. You'll often see tiny lines or creases. Then there is hard hail or falling debris, which can crack your shingles.
This often allows water to infiltrate your home causing expensive leaks and dangerous rot or mildew over time. Not spotting this early also decreases the longevity of your roof.
Can you see large piles of granules in your downspout? If so, it's likely because the protective layer of granules on your shingles has worn away. This protective layer is protected your home against UV rays.
Clogged or Damaged Gutters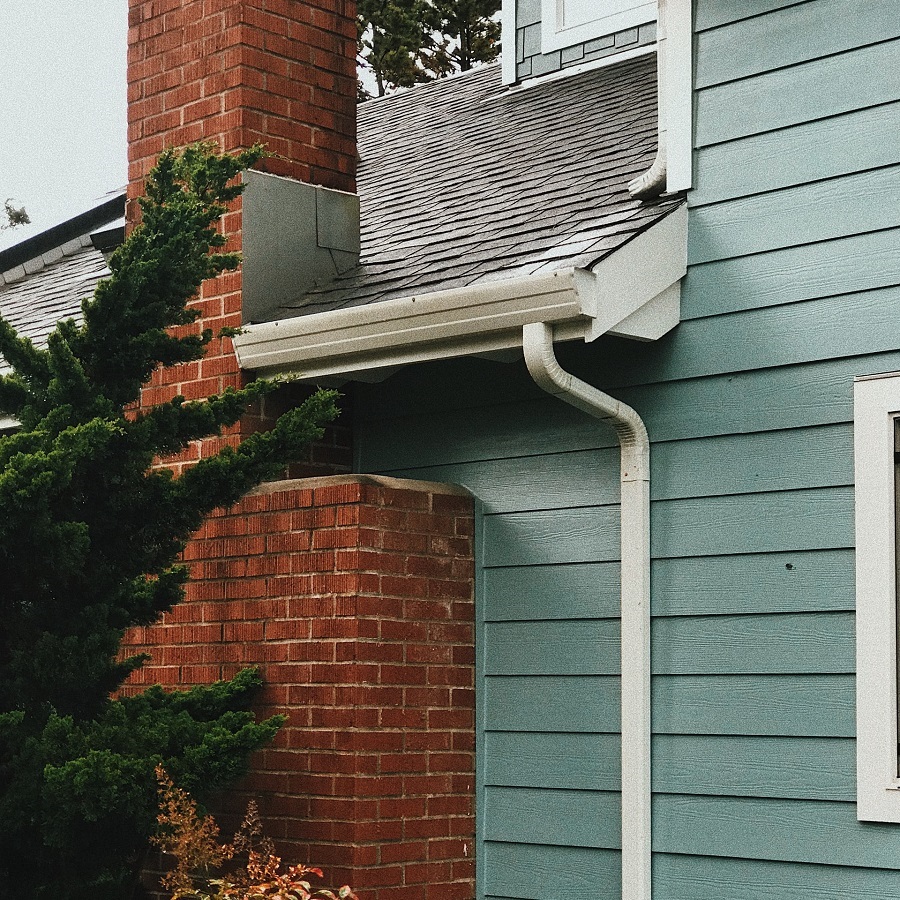 Your gutters support the brunt of the work when it comes to redirecting rain and snow off your roof.
Heavy winds can cause debris, like leaves and branches, to fall on your roof and into your gutters. Snowstorms can also cause dangerous ice dams.
Both will cause water to pool on your roof. At that point, you'll want to check the attic for leaks. That water has to go somewhere!
Anything clogging up your gutters, whether that be ice or debris, weighs down the gutters. If your gutters come loose, water won't be redirected off the roof.
Rather, it will overflow to the ground. Which, in turn, will negatively impact your foundation. Nobody likes dealing with foundational problems.
Damage to Roof Supports or Accents
Falling debris, like large branches or even hail, can easily loosen roof supports or accents. This opens the interior of your home up to water. Often resulting in rot, mold, and mildew.
After a storm, you'll want to inspect the flashing. These are the flat metal pieces around your chimney, vent pipes, and other elements. Hail often causes small indentations, once again inviting leaks into the interior of your home.
About New Prague, MN
The small town of New Prague is nestled just 45 minutes southwest of the Twin Cities, Minneapolis and St. Paul. New Prague has both the comfort of small-town living and access to the bustling cities. Making it a wonderful place for residents of all walks of life.
Downtown, you'll find a charming main street, adorned with boutiques and eclectic dining options. Continue on and be dazzled by a spectacular view of Cedar Lake, one of the town's most popular attractions!
If you lead a more active lifestyle, New Prague is for you! You'll find dozens of opportunities for hiking, cross-country skiing, biking, camping, and swimming. Ready to relax? Enjoy a picnic at one of our many, many parks.
Claim Your Free Estimate By Contacting Us Today!
Roof repair is usually all you need after a storm to avoid leaks and foundational problems we talked about. However, depending on the age of your home and the extent of the damage, it may be best to consider a complete roof replacement.
We are very excited to offer the New Prague community a free estimate on our roofing services!
Our free estimate is particularly useful after any storms roll through. You'll want to be careful of any "storm chasers" who go door to door after a storm, as there is no guarantee that these individuals are certified to work on your roof.
At Gold Star, our contractors are highly trained and certified to provide quality workmanship that you can trust will last you for the long-haul. We will work with you and your insurance company in case you need to file a claim on wind or hail damage.
Think of us as your one-stop solution for storm damage in New Prague!