You hear all across the country and all over google that it is not ideal to replace a roof in the winter. While that may have been true 20 or 30 years ago, technology in roofing materials has changed and the concerns are a lot less for a cold-weather roof replacement.
So, why do so many roofers shy away from winter roofing work whenever possible? The reality is while a roof can be properly installed in the winter there are a few extra steps that add up to additional time and energy.
That is why many roofing companies will tell you emphatically that they will only do repairs in the winter and not full replacements.
Right now you may be asking yourself, "but I can't wait till spring what do I do?
The good news is there is still about another month till mother nature makes it difficult to replace your roof. Ideally, a clear blue sky and temperatures above 45 degrees meet the requirements for a standard replacement. We understand that your roof and mother nature may be on a different schedule, so what happens when roofers don't have that perfect day.
Why do many roofers shy away from winter roof replacements?
There are several parts to answering this question. Don't worry we will get to them all, we promise.  What we want to make sure you understand is that these factors may lead to an increased cost to your roof repair or replacement.
Sealant used on asphalt shingles
Asphalt shingles have an adhesive on them to help your roof create a better seal for your roof. Under normal installation, the heat from the sun activates this sealant resulting in a quick and easy installation of your new roof.
When the temperature drops below 45 degrees, this adhesive needs to be heated with a propane torch to activate it. While the propane is not a large cost it can take a significant amount of time to seal an entire roof. This may cause an increase in the labor needed for the roof replacement.
Air tools are less effective
The days of roofers swinging a hammer to install your roof are all but gone. Roofers now use air tools and power nailers. This allows them to do twice the work in half the time (no they are not losing quality for speed).
When the temperature drops these tools become more difficult to use and sometimes inoperable. This is due to the condensation that occurs naturally in many of these tools. As that condensation builds up it can restrict the operation of the tool. Don't be alarmed when you see the trusty roofing hammer come out as the temperature drops.
Surfaces become slippery
During the summer it is not uncommon to have a roofing crew start as early as 7 or 8 in the morning. As the temperature drops, dew and frost become a concern because they make surfaces slippery. It usually means that roofers will need to start later in the day.
They also need to consider extra safety precautions in these conditions. That usually means things like extra roping and harnesses or carrying less weight up and down ladders. Keep in mind that typical winter.
Temperature is a factor
Shingles and tools are not the only things affected by cold temperatures. Roofers are people, not robots. As the temperature drops, they risk themselves by being out in the cold all day. Common issues include hypothermia and frostbite.
Both of these can occur rapidly and unexpectedly. Planning additional stops to warm up may increase the time it takes to install your new roof. Additionally, they may work shorter days.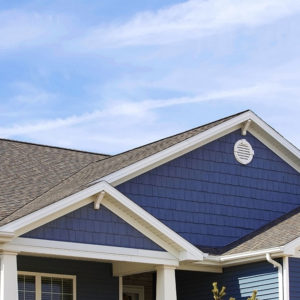 So what's the verdict? Can I get my roof replacement?
As you see there are many additional considerations that roofing contractors take during winter, but the short answer is yes. You will not be stuck with that leaky roof till spring. Keep in mind that your roof replacement or repair may take longer than normal in the winter and average costs may be higher based on the factors above.
Why choose GoldStar Contracting
Gold Star Contracting is proud to offer gold star quality service, products, and workmanship, all at a fair price.
We will take the time to help you understand the process so you are prepared for the service. We also strive to provide you with the least amount of disturbance possible.
Roof replacement is one of the big jobs regarding home improvements. Luckily, in many cases, the roofing repair or even the roofing replacement jobs can be completed while you are at work.
This means you could go about your day in the usual way and return home to a freshly repaired or replaced roof.
At Gold Star Contracting, we finish all jobs with a final quality inspection and professional cleanup. See our BBB Rating and read what our clients have to say!
If your roofing repair or replacement can be claimed through your insurance company, we are happy to help you navigate these otherwise complex processes.