The fact is choosing the right roofing company can be a challenge for many homeowners.  Unfortunately, the decision for choosing that roofer is often made when tragedy has already struck and you have a leak that needs to be addressed.  That means for most there are not weeks to make a decision on who the right roofing contractor should be. As a result, we have put together this comprehensive 2-minute guide to help you select the best roofing company for your next roofing project.
Here is our list of must-do research for your next roofing project.
Get referrals:
Did your neighbor or friend just get a new roof on their home?  Ask them about their experience with the company.  Chances are they will give you a much more honest review than the salesman knocking on your door.  Here are a few questions to ask that will get you the right information
How did you find them?
What did you like about working with them?
What did you dislike about working with them?
Did they provide any warranty or guarantee?
Remember your neighbor and friends will tell you if you should steer clear of a contractor they used on their roof replacement or repair.
Look for reviews:
Online reviews are a great source of information.  The keyboard warriors are typically not afraid to say what is on their mind about businesses.  While one bad review is probably not something to worry about (unless they only have a small number of reviews), Several bad reviews may tell you a story.
Read the reviews, especially the long ones
Look for similarities and differences between reviews
Look for responses from the company
Check for licensing and insurance:
Almost everyone has heard a horror story about an unlicensed or uninsured contractor (If you have not, check out this Reddit thread). Unfortunately, unlicensed contractors slip through the cracks and take advantage of unsuspecting homeowners all to often.  To protect yourself do the following.
Request a copy of their business license and insurance.
Validate it with the city or county you live in (Whoever issued it).
Review any complaints filed against the company (Including The Better Business Bureau).
Be a liaison between the insurance company and the contractor:
Did you know it is considered insurance fraud for your contractor to waive the deductible in most states?  Last time I checked you don't want to get yourself into that type of a mess.  To prevent that from happening, be the liaison between your contractor and the insurance company.  To avoid any challenges from your insurance company and the roofing contractor check these tips out:
Allow the insurance company to inspect the roof as well.
Any deductibles need to be reflected in the invoice and paid directly to the insurance company.
Don't let a contractor pressure you into submitting an unnecessary insurance claim.
The best are manufacturer backed
All of the major shingle manufacturers have great warranties on their products. Likewise, all the manufacturers also have contractor certifications.  These certifications are typically linked to what warranty the contractor can offer and what the manufacturer is willing to pay for in the unlikely event of product failure.
Ask if they have any manufacturer certifications.
Ask about product warranties.
Ask about workmanship guarantees.
Learn about the material options for your home: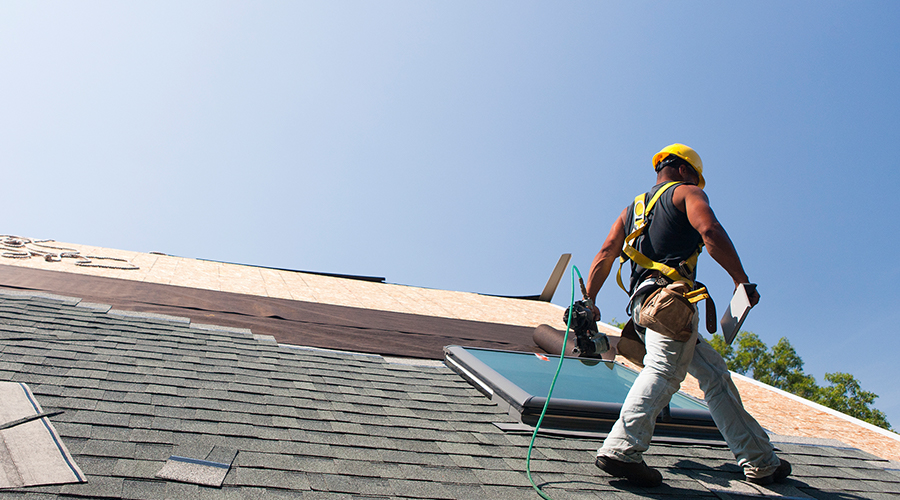 What material and color you put on your roof may not only impact the look of your home, but also the value of your home.  According to HomeAdvisor you can expect a 63% return on your roofing project.  What is more important to point out though is that your old and tired roof may be the difference between a full price offer and a low ball offer when selling your home.  Additionally, it may help additional buyers qualify to purchase your home as it will reduce the likelihood of building inspection issues.  Choosing the wrong material or color could have an adverse effect on your sale as well.
Explore multiple options for materials types so you can be informed
Think about color and style so that they match your home
Remember you get what you pay for and the cheapest option is not always the best choice for your home
Do your Homework
We know that when disaster strikes with your roof you may not have time you want to spend weeks mulling over the decision of who the best contractor is for your roof. Taking a few minutes to do your due diligence can save you time and money in the long run.  After all, you don't want to have to go through this hassle again next year.
Our last bit of advice is something that we often don't think about when making large and important decisions like a new roof.
Trust your gut!  If something doesn't look or sound right then don't risk it.
Why Gold Star Contracting
If you are here there is a likely chance that you may be shopping for a new roof.  Honest companies like ours are not afraid to tell you what to look for in a roofing contractor because we have answers to all your questions and your best interest in mind. We hope our 2-minute guide to choosing a roofing company helps you make the right decision.
At Gold Star Contracting, we deliver dependability, longevity, and building strength. We stay ahead of the competition through high-quality roofing services. Whether you are looking for a new roof installation on your property or you've recently experienced a major storm in your area, our highly trained roofing contractors have you covered.
No one expects you to be a roofing expert, and you don't have to be. That's where we come in.
Our home base is Shakopee, Minnesota but we often travel to roofing jobs up to 100 miles away. If you are wondering if we cover your area, give us a call to discuss your roofing needs. We look forward to serving you in the future.
If you are ready to start your roofing project today click the button below and contact our team so we can get you started.