Asphalt shingles date back to 1903. By the time 1939 rolled around, factories were producing 11 million squares. Today, asphalt shingle roofs remain one of the most popular types of roofing material, installed on 80% of new homes, and for many good reasons.
The base of asphalt shingles is either fiberglass or organic material. They provide a highly protective shield from natural elements like rain, wind, and destructive UV rays. They're also incredibly affordable, but the advantages don't stop there.
Below, we'll outline seven benefits of asphalt shingles and explain some of the most popular types. If you get to the end of this article and decide you need help with an asphalt roof, please reach out for more information.
7 Benefits Of Asphalt Roofing Shingles
It shouldn't be surprising that asphalt is the top pick when it comes to shingles in North America. Aside from the points mentioned below, this type of roofing shingle goes with a wide variety of roof types, which is part of the appeal.
Our roofing contractors have been doing residential roofing in the Shakopee, MN region since 2007, and we can attest to the ongoing popularity of the asphalt shingle variety. And that goes for a range of projects and styles, including roof replacements and new construction roof installation. Now, let's discuss the seven benefits of asphalt roofing.
1. Asphalt shingles are cheap
Asphalt shingles have been cheap since the beginning, which is well over 50 years. A lower price point means less quality in many cases, but this isn't true with asphalt. These shingles are cost-effective but still deliver high functionality and durability compared to other types. The average price for asphalt shingles costs anywhere from $70 to $150 per square.
2. Easy to install
Since installing asphalt shingles is pretty straightforward, new construction often costs less than it would with wood shakes or metal roofing. While we're not discouraging these materials, it's no secret that asphalt shingles are generally easier to install and maintain. Ease of installation is a huge benefit for building or replacing any roof.
3. Various options for design
In roofing, asphalt offers more design options than any other type of material. They match an impressive range of architectural styles and complement almost any home. Just drive around any neighborhood and see how many different kinds of asphalt-shingled roofs have curb appeal.
4. Diverse range of colors
When it comes to shingle replacement and repair, it's essential to find a type of shingle that matches your home. One of the primary reasons asphalt shingles are so popular is because they offer hundreds of colors. Whether you're building a new home or looking to replace your roof, it's easy to find a color that looks beautiful.
5. Easy to repair
Accidents happen, and when they do, it's nice to have a roofing system that's easy to repair. Over the years, we've worked on thousands of roof renovations and damaged storm roofs, and it's safe to say asphalt is one of the simplest materials to handle. Even your average roofing contractors can get an asphalt roof fixed and functional within no time.
6. Longevity
You might be wondering, how long do asphalt shingles last? If so, the answer is around 25 years, at least for your typical 3-tab shingle. Take note that proper ventilation plays a vital role in the lifespan, so it's essential to follow through with the appropriate installation.
7. Energy-efficient for the price
While asphalt shingles are not the most energy-efficient roofing material money can buy, they do the best job for the price range. Homeowners should consider that some colors perform better in specific geological locations, so asking your roofing contractor which shingle color bounces the most heat is essential.
Three Main Types of Asphalt Shingles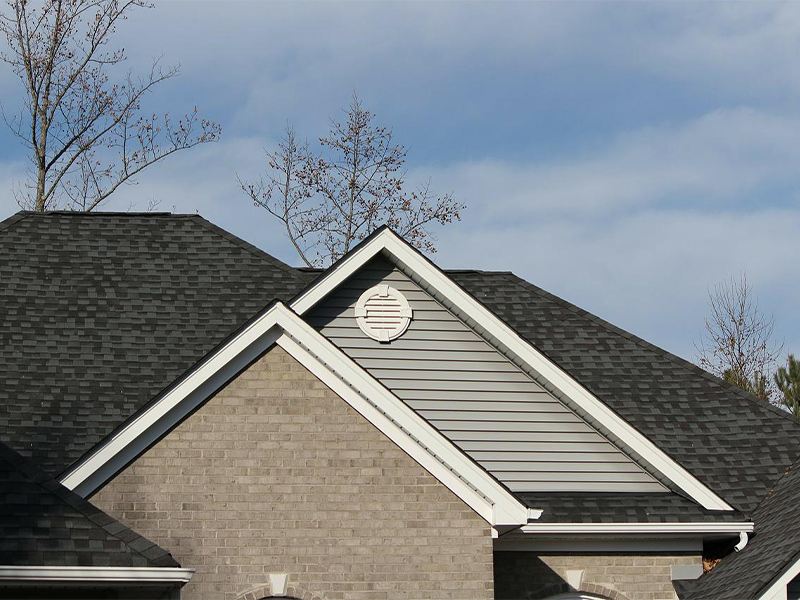 Although there is no definitive way to determine the best asphalt shingles, we want to outline three of the most popular shingle types below. The three primary types are 3-tab, dimensional, and luxury, each with its price range and pros and cons.
3-tab asphalt shingles: Also known as strip shingles, the 3-tab variety is the most basic of the asphalt group. On average, they last up to 20 years and cost around $1 to $2 per square foot, meaning it's one of the cheapest asphalt shingles on the market.
Pros: Affordability and good lifespan for the price.
Cons: Easily damaged by high winds and limited design options.
Dimensional shingles: Also known as laminate shingles or architectural shingles, this kind of shingle is considered high-quality. Dimensional shingles cost roughly $250 to $400 per square with a lifespan of 25-30 years. They're three times thicker than 3-tab shingles and have more aesthetic appeal.
Pros: Fire and wind resistance, easy to install, good in snow and rain.
Cons: Easily damaged by hail, requires at least a 4/12 roof pitch, higher price point.
Luxury shingles: Also referred to as premium shingles, luxury shingles are the best quality shingle you can get. Aside from a beautiful look, luxury shingles offer added protection from the elements. The average lifespan is 25-30 years and they cost at least four times more than standard 3-tab shingles at $4 to $6 per square foot.
Pros: High functionality, advanced durability, many colors and style options
Cons: Costly and heavy (weighs more than double 3-tab shingles).
Interested In Asphalt Roof Shingles? Contact Gold Star Contracting Today!
Gold Star Contracting has been in the roofing game since 2007, and we've serviced thousands of homes across Shakopee, MN, and up to 1,000 miles beyond. If you're thinking about asphalt roof replacement or other roofing services, please take a moment to see what our past clients say.
We're GAF Factory-Certified and an Owens Corning Preferred Contractor. You can also check us out on BBB, where we have an A+ rating. Since day one, we've focused on quality materials, superior craft, and outstanding value, contributing to our GOLD STAR standard.
We deal with a range of roofing projects, including Residential Roof Replacement and Repair, Commercial Roof Replacement And Repair, Multifamily Roof Replacement, Storm Damage Repair, and New Construction Roof Installation. We also do Installation and Repair for siding and gutters. Contact us for more information today!