If you have a home or business in the Twin Cities area, then you know that the weather can quickly turn for the worst. When a major storm hits, it's very important to have a trustworthy storm damage restoration company in your contact list. Otherwise, you may be left to file a claim for storm damage repair on your own – which can be quite difficult to navigate.
Over the past 15 years, we've helped well over 3,000 customers across Minnesota deal with the storm restoration process. Our storm repair experts have the knowledge and experience to manage jobs of every caliber, from minor shingle damage to complete restoration.
For those looking for assistance with a storm-damaged roof, look no further than Gold Star Contracting. It would be our pleasure to serve you during this stressful time.
Your Minnesota Storm Damage Experts
Every year, hundreds of buildings are damaged by extreme weather conditions in the Minneapolis area. Although these events are quite common, the insurance claims process still remains complicated. From filing the initial claim to meeting with the insurance adjuster and locating a roofing contractor, there are many important steps to follow.
Rather than fending for yourself, you can hire a reputable company to handle the insurance companies and get the claim that you deserve. Actually, this is one of our specialties. If you'd like to learn more, take a few moments to learn more about our top-ranked repair services.
If, at any point, you'd like to speak with one of our customer service representatives, just click the button below to get started with free consultation and estimate!
Our Storm Damage Repair Services
In any given year, many different kinds of storms pose a threat to the security of your home. The good news is we are here to support you every step of the way. In the meantime, we'd like to go over some of our most popular roof repair services. This way, you have a better idea of how we can lend professional assistance.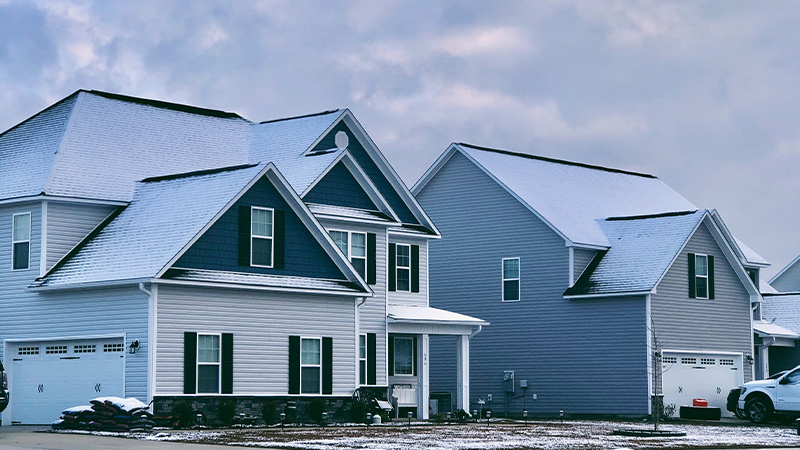 Hail Damage
During the past 12 months, the greater Minneapolis region had almost 100 reports of hail storms. And that's not even including the rest of the state! When you do the math, that's roughly one hail storm every 3.5 days! That's why we have a team of emergency hail damage specialists that operate 24/7.
Water Damage
Aside from hail issues, local residents and business owners need to be on the lookout for water damage. The primary culprits are heavy rain, leaky pipes, and infiltration caused by clogged gutters and malfunctioning systems. We are happy to provide a free inspection to figure out the root cause. After that, we can help you come up with a long-term solution that is also cost-effective.
Wind Damage
Moreover, storm damage may also be caused by high winds. It's not uncommon for strong winds to rip open roofing systems creating massive issues. In these situations, you'll need a licensed roofing company to repair the roof and, sometimes, replace it entirely. Then, you may want to consider preventative measures like structure reinforcement or wind-resistant roofing materials.
Gutters and Siding
In addition to storm damage roofing issues, bad weather can negatively impact other areas of the home. As a top-notch contractor, we are proud to offer installation and repair services for gutters and siding as well. No matter what the issue, the Gold Star team will get the job done for a fair price.
About Chaska, MN
The city of Chaska is the county seat of Carver County, Minnesota. It is located on the south section of the outer ring of the Twin Cities. With a population of just over 28,000 residents, Chaska grew from a brick manufacturing hub to become a well-established suburb.
If you are visiting Chaska, we recommend checking out the historic downtown area along the Minnesota River. There you can explore the Chaska Curling Center, Paisley Park, or the Minnesota Landscape Arboretum.
Claim Your Free Storm Damage Repair Estimate!
Don't let storm damage repair issues ruin your day. As a local contractor with a long-standing reputation of success, we would be happy to get your home back to its pre-storm condition.
All you need to do is click the button below and get started with a free consultation and inspection. Once you provide some basic information, one of our team members will get in touch about the next steps. After that, you can sit back and relax while we get right to work!