The asphalt shingle (a type of composition shingle) is the most common type of roofing in the United States. Property owners like them because they are economical, easy to install, and require minimal maintenance. Before determining the best style for your home, it's essential to understand the different kinds and their unique pros and cons.
At Gold Star Contracting, our roofing contractors work with asphalt regularly. No matter the job, we can help you determine the best asphalt shingles for your specific structure. We can assist with an asphalt shingle roof for your residential home, multifamily unit, and certain commercial buildings.
An Introduction To The Asphalt Shingle | What Are They?
The more homeowners know about the various kinds of roofing, the better the outcome. Since asphalt is the most widespread roofing material available, it's in your interest to understand the properties of this popular type of roofing.
A typical asphalt shingle has several layers, including a base mat, a layer of waterproofing, and a protective layer of granules. The base materials come in two types; organic (cellulose fibers) and inorganic (glass fibers). In either case, asphalt is the waterproofing agent.
An asphalt roofing system should hold up for around two decades with little maintenance. They are available in various styles and hundreds of colors throughout North America.
Types of Asphalt Shingle
Home and business owners may choose from three main asphalt shingle grades. Although each variety has a different set of characteristics, all asphalt shingles are an attractive option because of their reliability and affordability.
They are an ideal choice for roofing systems in Minnesota because they withstand the harsh winters and provide adequate protection from water damage, high winds, and other adverse weather conditions.
Please get in touch with Gold Star Contracting today if you're interested in building, repairing, or replacing your existing roofing system with asphalt. Our skilled contractors will work hard to deliver quality materials, superior craft, and outstanding value for every job.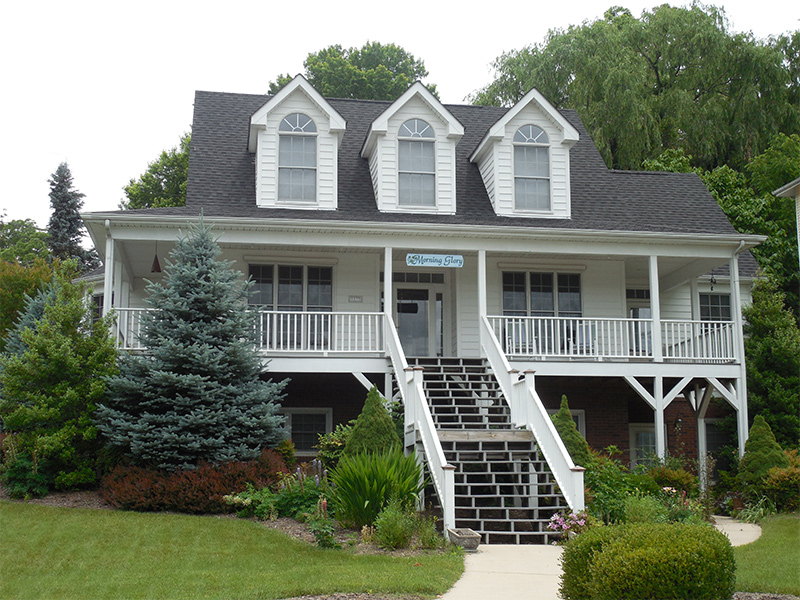 Strip shingles (3-tab)
Also known as 3 tab asphalt shingles, strip shingles are the most basic option. Unlike dimensional and luxury grades, 3-tab shingles have a single layer. As a result, they are lighter and cheaper.
Pros: easy to repair, low price point, sustainable
Cons: low resistance to wind, limited lifespan
Dimensional shingles (architectural asphalt shingles)
Also known as laminate or architectural shingles, dimensional shingles are a higher-grade material. This variety is thicker and heavier than strips, as it's made with multiple layers. Dimensional shingles cost a bit more and are a solid alternative to wood shakes.
Pros: fire, snow, and rain resistant, better warranty, multi-dimensional design
Cons: heavy, requires slope roof, doesn't withstand large hail or winds over 60 mph.
Luxury shingles (premium)
Of the three main styles, luxury shingles are the best in terms of quality. Their heavy-duty design provides the same look as slate tile. We highly recommend luxury shingles if you're in the market for an expensive, premium material that boosts your curb appeal.
Pros: cheaper than wood/slate, more texture, lifetime warranty
Cons: higher price point, heavy, not supported by all structures
Asphalt Shingle Colors
No matter the design of your home, there are hundreds of asphalt shingle colors to match. If you have a specific shade in mind, our contractors can find it for you. If not, we can help you review plenty of samples to pin down that perfect hue.
Selecting the right shingle color is very important. That's why we suggest clients consider the color as soon as possible. At the moment, some of the most popular shingle colors include light greens, paler blues, and shades of light brown.
How Long Do Asphalt Shingles Last?
The average lifespan for asphalt shingles is around 20 years for a complete roof. They can hold up even longer if the roofing company adheres to proper installation methods. It's also important to note that the lifespan depends on the type of shingle.
For instance, an architectural shingle will last longer than a strip. And luxury shingles should be far more durable than dimensional styles. In most cases, roofing materials with a longer lifespan cost more money. On the other hand, cheaper materials break down faster and require more upkeep.
Interested In Asphalt Roofing Shingles? Give Us A Call Today!
Over the years, Gold Star Contracting has worked on thousands of asphalt roof projects in Minnesota. If you're ready to experience the Gold Star Standard, contact us today! We work with the best manufacturers in the industry, including Owens Corning, GAF, and more.
Call us today at (612) 249-9480 for a FREE in-home consultation. Whether you're looking for new roof installation or help with storm damage claims, our talented contractors can build a cool roof that lasts for several decades.